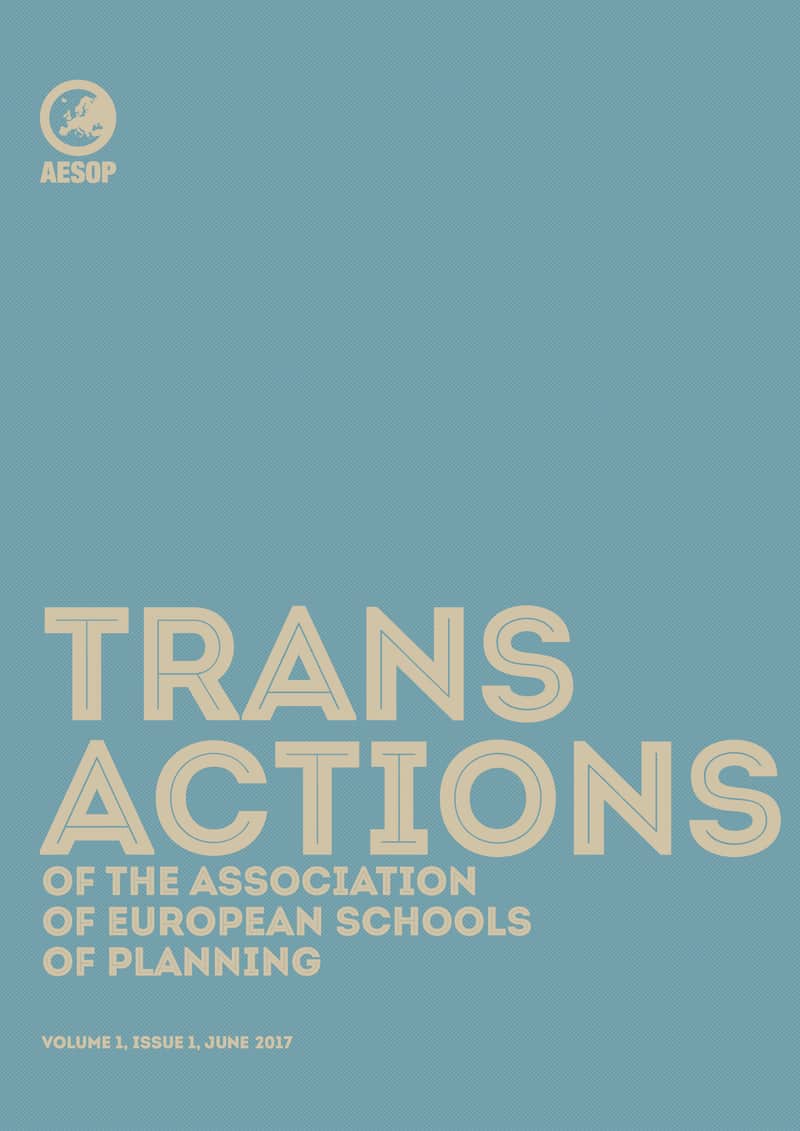 Transactions of the Association of European Schools of Planning is an international, bi-annual, peer-reviewed, open-access journal, produced and owned by the Association of European Schools of Planning (AESOP). It is free of charge to submit a paper and to publish in the Transactions of the Association of European Schools of Planning. Accepted papers are accessible online, to everyone, for free. All papers are subject to a double-blind peer-review process.
Preface
It is with great pleasure and excitement that we introduce this inaugural issue of Transactions of the Association of European Schools of Planning. The journal is a new venture of AESOP and aims to provide a platform for the planning community to share research, innovative practices, and provocative thoughts among peers. It expands the already rich opportunities for networking and scholarly dialogue that AESOP offers via annual congresses, Thematic Group activities, specialist meetings such as the Heads of Schools workshops, and summer schools.

Transactions seeks...

I am very pleased to introduce a new journal, Transactions of the Association of European Schools of Planning. A first question may arise to the reader: is there a need for another planning journal? Indeed, although the planning discipline developed in the twentieth century, it remains rather young, and today there is a number of very good journals. However, after vivid discussions, AESOP has come to the conclusion that the project of Transactions, developed with a remarkable dedication by Ela Babalık-Sutcliffe, Andrea Frank, Nikos Karadimitriou and Olivier Sykes, is to provide our...
Articles
The years 2016–2017 have opened up a dream-world set of opportunities for the planning profession. To what extent are planning education and the global planning profession intrinsically ready to take up these opportunities, and are there prices to be paid?

Sustainable land use needs a manageable nexus of knowledge from planning practice, policy makers, the private economy, and civic society, as well as from scientific research. This is mutually dependent on the communicative and collaborative turn in spatial planning as well as by transdisciplinary research approaches. This paper offers an approach how to organise knowledge management and co-production of knowledge in the context of complex land use decisions. Therefore, a prototype of an internet-based knowledge platform is introduced based on a theoretical reflection of concepts for...

A trend in the planning discourse tends to portray the local in a positive light. This paper critically examines localism and regionalism, from a theoretical point of view, to find out whether this positive outlook may be maintained. First the ontology of the local is examined, with its substantive, relational and experiential aspects. As a complex, multi-dimensional process, localism is then analysed at the intersection of four dimensions of power: territorial, representational, institutional, and functional. Boundaries are drawn, representations created, relations within and beyond the...

The paper discusses the co-evolution of the EU mode of governance and the objectives of European Union cohesion policy. As EU integration proceeds, collective decision-making in an increasingly diverse political arena has become a central concern for research on EU governance. The literature on experimentalist governance suggests consensus-seeking deliberation and policy-experimentation as two key mechanisms to reduce the trade-off between overall policy responsiveness and democratic legitimacy. However, this paper argues that the inconsistencies which result from making cohesion policy...

Cross-border strategies have been flourishing over the last few decades in Europe, mostly in a favourable context where European funding is available and legal instruments are well-developed. However, one may wonder which objectives are really targeted within this very broad and imprecise notion of cross-border strategy. The purpose of this paper is, first, to provide a theoretical framework in order to better understand the different meanings of the notion of cross-border integration and to provide a more critical perspective on its effects. Secondly, it analyses the policy content of...

Global student mobilities have led to different perspectives on urbanity and planning culture travelling at high speed around the globe. During experiences of mobility what is conceptualised as 'urban' changes, bringing with it alterations in discourses on planning practices and planning cultures. Such student mobilities and their shaping of local urban imaginations, as well as the effects of returnees entering local job markets, have not specifically been addressed in urban studies. This paper aims to analyse how the mobilities of students – and thus of knowledge – shape persistent or...