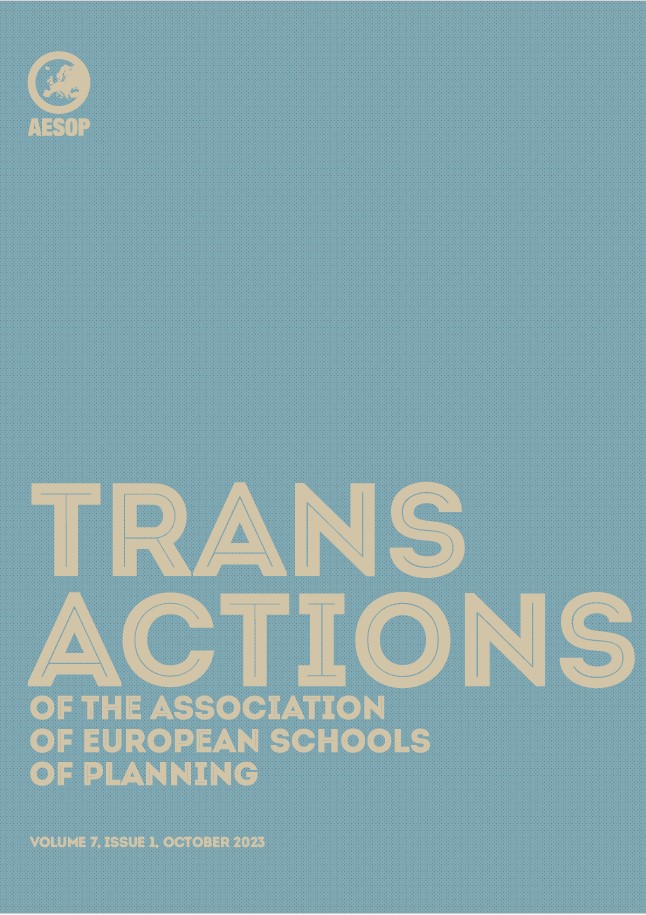 Transactions of the Association of European Schools of Planning is an international, bi-annual, peer-reviewed, open-access journal, produced and owned by the Association of European Schools of Planning (AESOP). It is free of charge to submit a paper and to publish in the Transactions of the Association of European Schools of Planning. Accepted papers are accessible online, to everyone, for free. All papers are subject to a double-blind peer-review process.
Preface
This issue of Transactions of AESOP brings together papers that address key contemporary planning themes and agendas with a particular emphasis on appreciating the importance of time and space in shaping the substantive matters planning addresses and the manner in which it responds to these.
Articles
Future-orientated thinking needs to be strengthened in planning and policy making to respond to the challenges posed by 'presentism'. Despite the inherent uncertainty of the future, effective planning and policy making require the ability to envision potential future developments and implications of today´s decisions. The 'tragedy of the time horizon' emphasises the detrimental effects of short-term thinking on various domains, including the environment, economic stability, and social equity. It encompasses the multifaceted challenges posed by short-term thinking and the neglect of...

This paper attempts to develop a novel insight into Hannah Arendt's socio-political theories in order to examine and alleviate the socio-spatial exclusion of the vulnerable by greater society. It utilises Arendt's classification of the terms 'communal' and 'irrelevant' as a pair of opposing concepts in which the state of 'vulnerability' is associated with being deemed to be 'irrelevant' within society. The study addresses the exclusionary qualities of public spaces by focusing on the complex relationships observed between these concepts in Turkey through a content analysis of 35 national...

Public spaces serve as the sensory system of urban life, and are crucial for interconnecting individuals, ideas, and  cultures within the fabric of cities. This study provides a fresh interpretation of public spaces by examining people's activities from a new perspective. By applying play theory to public space analysis, the study uncovers spontaneous and unplanned activities and the novel relationships which exist between users and their environments. In so doing it paves the way for a new approach to public space design.

With a focus on Aachen as a place of play, this study...

An increasingly dynamic environment and engaged society necessitates decision makers in infrastructure planning to adopt adaptive and participative planning approaches and give room to uncertainty in planning and decision making. In planning, individual actors belonging to a group of like-minded actors may attempt to influence decision-making about planning proposals. They do so by using a mix of instruments such as research, participation, agreements, and so on. To gain greater insight into the processes of interactions between decision makers and other relevant actors in planning, the...

Food is a territorial system that is closely linked to public health, social equity, and land policies. Eating habits are at the root of both incidence of cardiovascular disease and the phenomenon of malnutrition. Food often entails social inequity and is acquiring, directly and indirectly, ever greater relevance in the tools of territorial governance. The Cities2030 project is being developed and financed by the European Horizon 2020 programme. The methodology agreed upon by the partners envisages the involvement of all interest groups and actors within the food system arena through the...